About the Pastors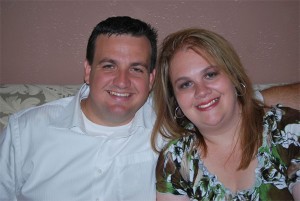 Pastors Michael & Polly Holland
Our Vision
The why we do what we do.
Church in many places in the USA have become very centered around the rules and "do & don'ts", that we have failed to become what God has called us to become.
Relationship- When looking at the Bible, the purpose of its message can be summed up into four simple words that Paul said.  "Come Back to God".  We see that God is constantly looking to show He wants to be in relationship with mankind and these things bring Him great pleasure.
Worship- Simply put, this means Loving God with everything in us.  As we walk with with God, we love Him more and more. Following God is not about following the rules, but being in a friendship with God so great, we want to do what He ask.
Ministry- This is simply loving our neighbor.  We dream to be a church where we love outrageously be cause Gods character has influenced us so greatly.  At the core of what we do, we love people, because it is a natural response of our relationship with the creator of the universe. 
Evangelism- Because of Gods great love for us, be have been given the task to fulfill His mission, of telling the good news of Christ, with our words and with our actions.  We get to tell people about the live-life-to-the-fullest invitation.
Community-  We aspire to be a close group of believers that encourages and blesses one another for the purpose of growing closer to each other and closer to Jesus Christ in the process.
Discipleship-  Simply teach other to do as Christ did.  As we learn and teach others in small group situations, we walk deeper with God, and teach others to walk deeper with God.
Our vision is to be a church that Loves God & People, and helps them grow closer to him each time we encounter one another.